Easy Parmesan Crusted Pork Tenderloin
Easy Parmesan Crusted Pork Tenderloin
Parmesan Crusted Pork Tenderloin is a common entree in our home.  Parmesan, Panko breadcrumbs and Smithfield® Prime Pork Tenderloins are just fabulous creations in their own right.  Put them together, and they equal  pure deliciousness.  If you haven't tried Smithfield® products, please try it soon.  Their pork products make dinner incredible with less work.
This Easy Parmesan Crusted Pork Tenderloin is bursting with tender juiciness, lightly-seasoned flavor, and a crisp bite to the exterior.  What more could we ask for in a quick weeknight meal?  Yes, I did say quick and weeknight in the same sentence.  Because it is that easy. Believe me when I say your prep work for this meal will be done in less than 10 minutes.
Pork is most definitely known for being the other white meat. It is surprisingly lean.  I had sworn off pork of any kind many years ago, when I was in my "I don't care for the taste of pork" phase.  It eventually dawned on me that with the right cuts, it is a lean protein that makes the taste buds happy.  I was just purchasing the wrong brand and cuts. I can honestly say that pork and I have become close friends again.
Easy Parmesan Crusted Pork Tenderloin Recipe
In a shallow dish, combine bread crumbs, grated parmesan, thyme, salt, and pepper.
Roll pork tenderloin in mixture until it is well covered.
Bake uncovered 45 – 50 minutes until golden and cooked through. (The FDA notes that a safe internal temperature for pork is 145 degrees F, as measured with a meat thermometer.)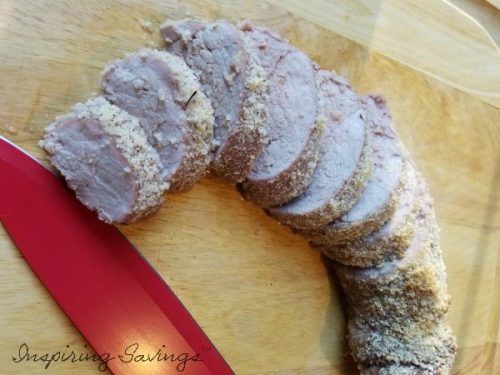 Remove pork from the pan, cover, and let stand 10 minutes before slicing to serve.
Gluten Free Option: Substitute gluten-free panko breadcrumbs or gluten-free rice cereal blended into a fine crumb mixture instead of traditional panko breadcrumbs to make this dish gluten-free.
Parmesan Pork Cutlet
Author:
InspiringSavings.com
Recipe type:
Parmesan Pork Cutlet
Ingredients
1 pork tenderloin (2-4 lb)
1 cup panko bread crumbs
⅔ cup grated parmesan cheese
1 tsp kosher salt
½ tsp black pepper
1 tsp dried thyme
Nonstick cooking spray
Instructions
Pre-heat over to 375 degrees. Lightly spray foiled wrapped a rectangular baking dish with the nonstick spray..
In a shallow dish, combine bread crumbs, grated parmesan, thyme, salt, and pepper.
Roll pork tenderloin in mixture until it is well covered.
Bake uncovered 45 - 50 minutes until golden and cooked through. (The FDA notes that a safe internal temperature for pork is 145 degrees F, as measured with a meat thermometer.)
Remove pork from the pan, cover, and let stand 10 minutes before slicing to serve
Other Easy Weeknight Dinner Meal Ideas
Fajita Style Easy Chicken And Rice Recipe
Easy Apple Raisin Smothered Pork Chops
Cheesy Vegetable Chowder – Easy 30 Minute Meal