No Churn Cookie Dough Ice Cream – Kid Friendly
This Cookie Dough Ice Cream is an amazing no churn recipe that is stuffed full of cookie dough chunks in every bite! Made with fresh cream and easy to make

There is something very special about being able to make your own Cookie Dough Ice Cream at home. You don't need an ice cream machine to create delicious homemade ice cream. This No Churn Ice Cream recipe is so simple. In fact, you will want to put the kids to work helping. They will love being able to make their own ice cream and you will enjoy eating it.
Heavy whipping cream is a magic ingredient when making no–churn ice cream – the end result will be creamy, smooth and not at all icy. This no-churn ice cream turns out super creamy and decadent with a delicious vanilla flavor base wit chunks of cookie dough ice cream
Summer, Fall, Winter or Spring, there's no wrong time to devour a couple scoops of ice cream. What are you waiting for? Let's get started making some homemade ice cream.
No Churn Cookie Dough Ice Cream – Kid Friendly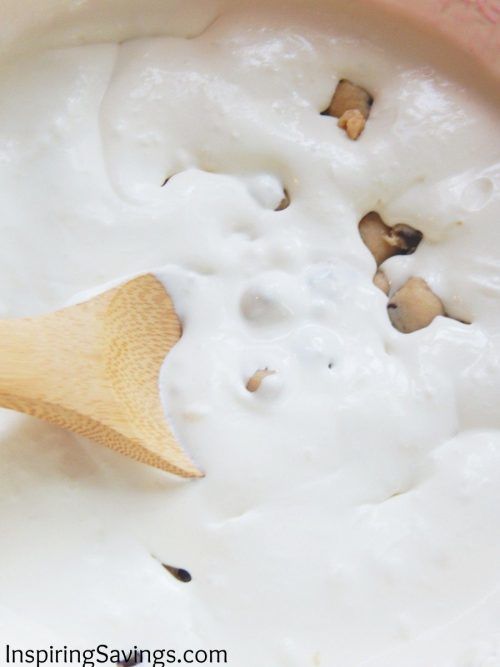 No Churn Cookie Dough Ice Cream - Kid Friendly
Ingredients
2 C heavy whipping cream
14 oz can of sweetened condensed milk
⅓ C sugar
1 ¾ C flour
1 cup mini chocolate chips
1 tsp vanilla extract
½ tsp salt
⅓ cup sugar
⅔ cup brown sugar
6 tbsp butter softened
¼ cup milk
Instructions
In a medium size bowl add in 1 C flour, vanilla extract, sugar, brown sugar, salt, and softened butter. Mix until all ingredients are well combined.
Add in milk and stir until mixed in.
Add in remaining flour and stir with a wooden spoon. (Wooden or bamboo spoons are the secret to making good cookies)
Lastly, add in ½ C chocolate chips.
Cover and refrigerate for 30 min or until dough is easy to roll into balls.
Once dough is chilled enough roll as many cookie dough balls as desired. The balls can be tiny like in most ice cream or you can make them a little bigger like I did 
Cover a sheet pan with parchment paper and place cookie dough balls onto the paper and freeze for an hour.
Once that hour has passed start on ice cream mixture.
In a different large bowl add in 2 C cold whipping cream and whip until stiff peaks form. Set aside and in a separate medium size bowl add in sweetened condensed milk and ⅓ C sugar.
Add in condensed milk mixture to stiff whipped cream while whipping constantly.
Fold in the cookie dough and remaining chocolate chips and pour mixture into a loaf pan.
Freeze for 6+ hours.
ENJOY
Other Delicious Dessert Recipes
To Die For Vanilla Cheesecake Cake Balls
World's Best & Easiest Chocolate Fudge
Strawberry Filled Angel Food Cake
Homemade Almond Joy Shortbread Cookies